Resources
Community Liaisons
Mr. Leshaun T. Jenkins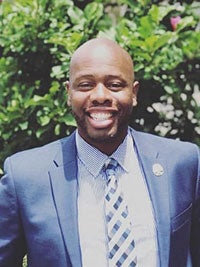 Mr. Leshaun Jenkins is a 1996 graduate of Southwest Edgecombe High School and a 2000 graduate of East Carolina University (ECU). Mr. Jenkins was a dual major at ECU Earning his Bachelor of Arts degree in History and Political Science, Mr. Jenkins is currently finishing his Masters in School Administration at North Carolina State University. Now in his nineteenth year in the educational field, he spent the first sixteen of those years as a high school history teacher. This was followed by two years as the Assistant Principal at Phillips Middle School and Princeville Elementary School.
Throughout his time as an educator, Mr. Jenkins has had a decorated career as a coach and teacher, having been nominated for teacher of year awards on four separate occasions. In 2015, Edgecombe County Public Schools named him the District Global Educator of the Year.  He was named North Carolina State Coach of the Year in 2014 and was recognized by the National Soccer Coaches Association as the Small Public Schools Coach of the Year for the State of North Carolina in 2014. He also served as an assistant soccer coach at North Carolina Wesleyan College where he has helped lead the team to Back to Back Conference Championships in 2016 and most recently 2017.
To date, he has been named Coach of the Year eighteen times, Regional Coach of the Year eight times and Conference Coach of the Year six times.  His athletic teams have won thirteen Conference Championships and have been awarded eighteen trips to the North Carolina State Playoffs.
He is an avid mentor helping young people to discover their personal greatness.  He has traveled the world doing mission work in Rwanda, Ethiopia, Costa Rica, & Haiti.  Today, Mr. Leshaun T. Jenkins is currently serving as the Assistant Principal at Tarboro High School. Most recently, in 2017 he was awarded one of East Carolina University's 40 Under 40 Leadership Awards. He is also a proud member of The Alpha Phi Alpha Fraternity, Incorporated.