Students & Alumni
---
On this page…
---
Prospective Students
What Careers Can I Pursue With my Bachelor of Arts Degree in African and African American Studies (AAAS) from East Carolina University?
The Department of African and African American Studies (AAAS) at East Carolina University provides its majors, minors and interested students an academic home for the investigation, critical study, analysis, and understanding of people of African descent in the United States, the Caribbean, Africa and the other areas of the global diaspora. The interdisciplinary program here at ECU offers a selection of core courses along with a variety of offerings with other departments and programs addressing the historical, cultural, sociological, political, and psychological factors that have an impact on the lives of people of African descent. Taking an interdisciplinary approach, the program prepares students to enter several different career fields following graduation.
Management and/or Industry
Cultural Resources Manager, Civil Services Worker, Social Worker, Human Resources
Communication/Media Specialist
Journalist, Media Relations Specialist, Linguist/Interpreter
Education
High School Teacher, Administrator, Professor, Student Affairs, University Administration
Non-Profit or Public Advocacy
Peace Corps Staffer, Program Administrator
Government/Politics (Local, State and Federal)
Foreign Service Specialist, Political Analyst, Public Administration, State and Local Government, Civil Service Work, Public Affairs and Policy.
Graduate School
The Department of African and African American Studies provides support to students considering entering graduate school to pursue a master's or doctoral degree.
Transferable Skills
Expressing Ideas, Listening Skills, Public Speaking, Technical Writing, Written Communication, Cultural Understanding, Research Skills, Planning, Strategic Planning/Visioning, Creating Innovative Solutions, Multi-tasking, Analytical/Critical Thinking, Problem Solving
---
Alumni Spotlight
Ms. Alexandria Whitted is from Chadbourn, North Carolina. A July 2020 East Carolina University graduate with dual degrees in African & African American Studies (AAAS) and Public Health: Community Health. During her time as a Pirate, Alexandria worked as a Wellness Ambassador in the Campus Recreation and Wellness Center.
After graduating from ECU, Ms. Whitted was accepted into graduate school at the Boston University School of Public Health, one of the top ranked programs in America. In May 2022, she graduated with her Master of Public Health degree in Program Management and Sex, Sexuality, & Gender with a Global Health focus. 
Ms. Whitted is dedicated to eliminating social determinants of health for African American people in the United States and decolonizing global health. Additionally, while obtaining her Master of Public Health,  Ms. Whitted was an inaugural research fellow for the Boston University Center for Antiractist Research.  Here she was able to teach a course she developed titled Women's Health and Reproductive Justice for the Boston Health Education Center. 
Most recently, Ms. Whitted started her new public health journey as a Quality Improvement Analyst for the Codman Square Health Center and is a Project Manager for the Boston University Department of Global Health, where her passions for social justice and healthcare come together.  As a Gates Millennium Scholar, her long term goals include obtaining a doctorate of Public Health from an HBCU.   She hopes to have impact on health education and empower young women from rural areas to pursue opportunities in Public Health.
Ms. Natalia Watkins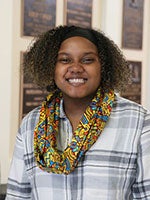 Ms. Natalia Watkins is from Winston-Salem, North Carolina, a May 2019 graduate of East Carolina University who was a dual degree in African and African American Studies (AAAS) and Sociology.  While at ECU, Ms. Watkins was mentored by several professors associated with the program and across the campus but credits explicitly Dr. Kennetta Perry (specifically calling her attention to pre-law programs), Dr. Crystal Chambers, Dr. Susan Pearce, Ms. Lisa Ellison with their guidance.
In her personal statement to the law schools she applied to, Ms. Watkins discussed how majoring AAAS and Sociology impacted her life by reshaping her view of the world.  Gaining acceptance into six law schools: West Virginia University, San Francisco State University, Michigan State University, University of Tennessee, and the University of Cincinnati. Receiving several scholarships, she accepted the prestigious W.E.B. DuBois Fellowship from West Virginia University Law School, covering her full tuition and providing a stipend. Combining what she gained from the AAAS Program and the Sociology Department, she is now applying this information with her law studies. Ms. Watkins hopes to ensure that people have equal access to justice in the court system.
Now in her first year as a law student and a member of the WVU Class of 2022, Ms. Watkins is pursuing her studies in with an interest in Civil/Human Rights and Constitutional Law.  Once obtaining her degree, she hopes to someday work for the Southern Poverty Law Center.